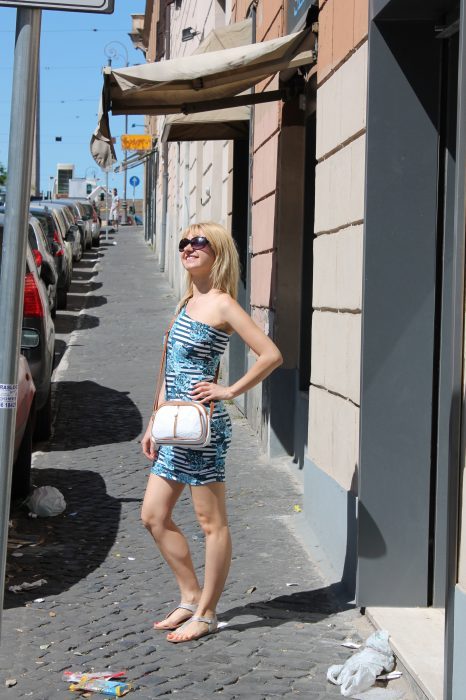 What do you notice in a new place? Flaws? Sights? Achievements? Or beauty?
I was one of the few ones, who saw only pluses and beauty, and hardly anything else. Well, this has recently changed. I was awakened by the garbage sites in one of my favorite cities, which I have previously seen before, but disregarded them anyway. Now, I've really seen them. Especially, when someone else pointed them out. I found myself on the "defensive" side, saying something like: "But look at everything else!". Could it be that I was the only one seeing more pluses and beauty, despite everything?
I am a believer in choice. May be, for someone growing up in a country with hardly any choice, especially in the 80s and 90s, it means more than for those who grew up where choice is expected and sometimes is taken for granted. Be grateful for it! Choice is everything! At least in my world.
Choice gives you many options. You get to choose what books to read, movies and shows to watch, or not to watch at all, what to wear, etc. I do not necessarily believe that it defines you, but it has a potential to redefine you. You always have a choice to change the channel or turn the TV off completely, get another book, wear something else, or switch your company for a better service and quality. Choosing to do so actually improves the quality of everything!
The same is with travel. There are so many options out there! You can choose how you travel, where to stay, where to stop and what to see. Cruise? Road trip? Air travel? Hotels? Companies? Brands? You can experience it all and pick what you like! This is a beauty of choice!
For me the most amazing discoveries happen when I decide to follow my heart, my curiosity and actually practice what I preach. I make a choice to explore an unknown and unheard (at least by me) city, town or place without letting other people's opinions and reviews interfere with my own thinking and vision. Let it be a country, a city or a person. Everyone has a fair start. To be a better version of themselves. This comes after reading many negative and positive reviews, hearing many opinions and experiences of the places I actually liked.
Reviews and opinions are great, they can be helpful, but sometimes they are biased and one-sided, and do not reflect the whole truth. Especially, if they are paid for it. This is why I like the word "experience". Sharing your experience to be exact. Why? Because it is multidimensional and more honest. Even if you are paid for it.
This resonated with me even more today. I read an article by a travel writer about overrated dream destinations under a different name. I would love to be one of those successful travel writers who combines their passion for travel and writing, gets to see the world, experiences different cultures and places and actually gets paid for it! But would I still do it if I couldn't be honest about it?! Can I redefine it for myself? Can I include honesty to my travel experience and still attract companies and people who are willing to collaborate with me? Who will actually appreciate it? And readers who will actually appreciate reading honest experiences?
After all, we do choose for ourselves: watch movies with purpose or "reality TV", buy original or fake, read honest or pretentious experiences, celebrate power of the human spirit or make fun, offer a helping hand or judge, love wholeheartedly or in exchange for things. If other choices don't define you, these ones actually do.
As for me, I will definitely not judge a place from someone else's opinion, especially from those who were able to find grey garbage cans in Rome, of all places. I will not judge a place from a previous me, who would only write and talk about its beauty. You can still enjoy my photography of different and beautiful places around the world, and I would definitely love to read others' travel experiences and share my own. So here is my one day in Rome.
I think true wisdom lies not in seeing the ugly or the beauty, or pointing out one or another, but in seeing both of them and still being able to find something for yourself. Being able to see the real beauty of it despite anything else, beauty, faults and all!
May be, this is how Everything around the world Project started. Now, when I travel, I notice and take pictures of many different things I come across: sights, street art, flowers, food, bicycles, something interesting for me and even recycling. May be, by switching our focus, we will finally notice how many things unite us. Sometimes we can even learn from other places, especially if they are better at something, like Art, Culture and different educational, environmental and social programs. You can see what Everything Around the World Project is about on Pinterest or Facebook, if it is worth a follow )), and I will actually appreciate your ideas, comments, suggestions and contributions. Let's start a meaningful conversation!
What do you notice when you travel? Are you able to see past it all?
All opinions and experiences are, as always, my own.
Liberty, Peace, Love, Bliss…
Nadia
The post Beauty of Choice appeared first on Globetrotting Girl

by