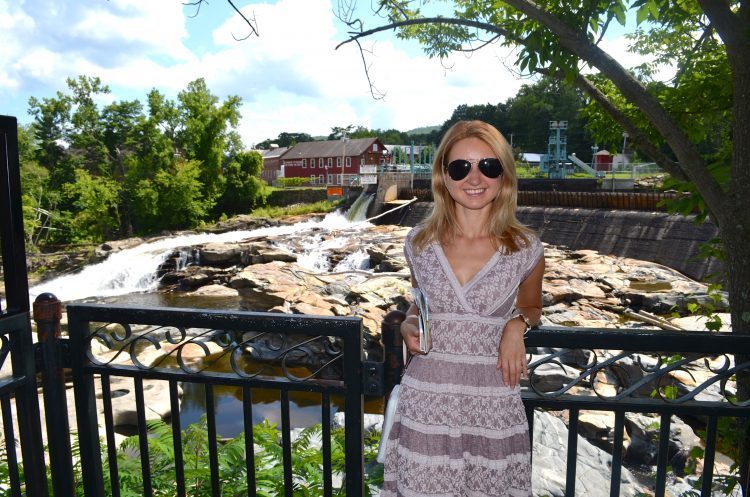 Sometimes the most amazing discoveries happen in the most unexpected way possible. While driving on Route 2, known as the Mohawk Trail, on my way to my first-time zip lining experience, I've seen many areas referencing its Indian heritage. The trail is one of the oldest scenic routes in the country, and it does have many amazing views of the Deerfield river. However, a sign "Historic Sweetheart Restaurant" caught my attention and I decided to stop by it after a few hours of zip lining.
On my way back, a sign "Salmon Falls" repeatedly caught my attention also. What a surprise it was that both of the signs (on the way there and on the way back) pointed to the same direction. This is fate! So I decided to explore the area, and I am really glad I did!
After parking my car in front of the cute colorful shops, I knew this is going to be a different kind of town, especially after passing two small bridges located next to each other. Plus, one of them appeared all green from all the flowers, bushes and trees planted on it.
Starting the exploration of the town with artisan and art shops seemed like a good idea, especially if I parked next to them and didn't know where the signs and the road brought me. In the first shop, of course, I asked about the "Historic Sweetheart Restaurant" from the sign, and was eager to learn what makes it historic, only to find out that it has been closed for approximately ten years. But the Salmon Falls must be still here, right? And where, exactly, am I? I did find out where I was, but I would like for it to remain a secret, at least till the end of the post, and keep you guessing where the signs and the road brought me.
Any ideas at this point?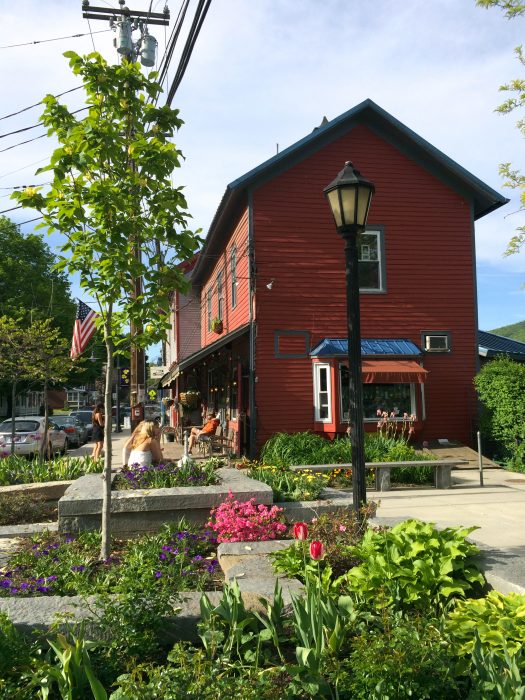 A few artisan and art shops later I ended up with two small paper bags of goodies and one ladybug lucky charm. Oh, the things you can find in artisan stores. Colorful solmate socks, anyone?! Mismatched with care?! Well, as long as they are true soul mates! I am up for it, wrap me a pair! ))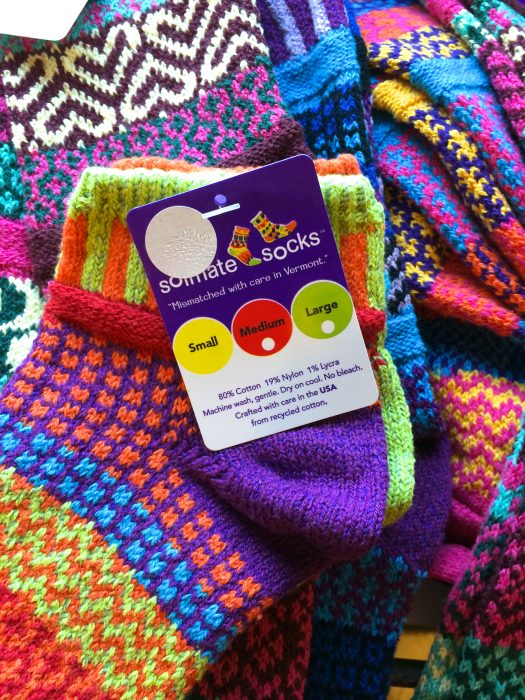 With my little bags of souvenirs off I went to explore the "green bridge", which turned out to be the world-famous Bridge of Flowers. So famous, that it even has its own web site. Once known as a trolley bridge, connecting neighboring towns, it was used to transport passengers and local goods many years ago. Trolley bridge no more! What can you find here now? So many different types of colorful flowers, bushes and trees! While chatting with locals, I found out that the planting of all this colorful beauty is done by the town volunteers every spring. Plus, all the nice detailed touches and finishes, noticeably made with love and care, make the crossing of the bridge even more remarkable! I even crossed it twice just to make sure I didn't miss anything interesting. And sure I did. On my second round I did notice a single love lock on the bridge, I guess, someone has to start a new tradition ))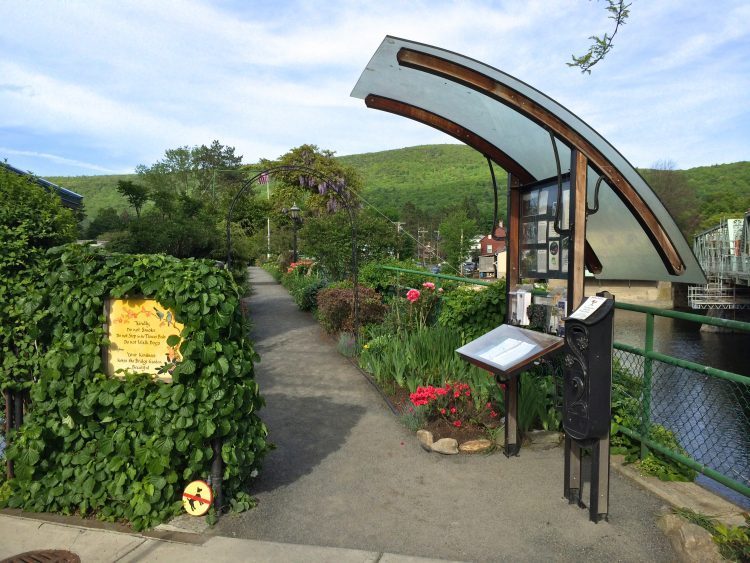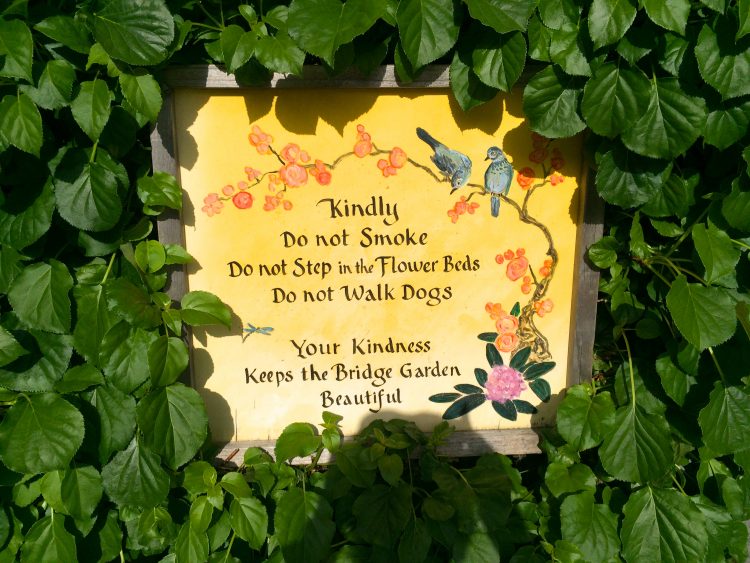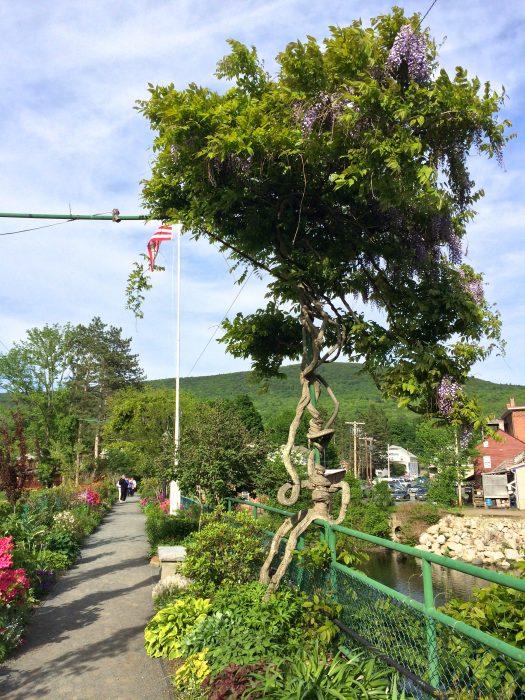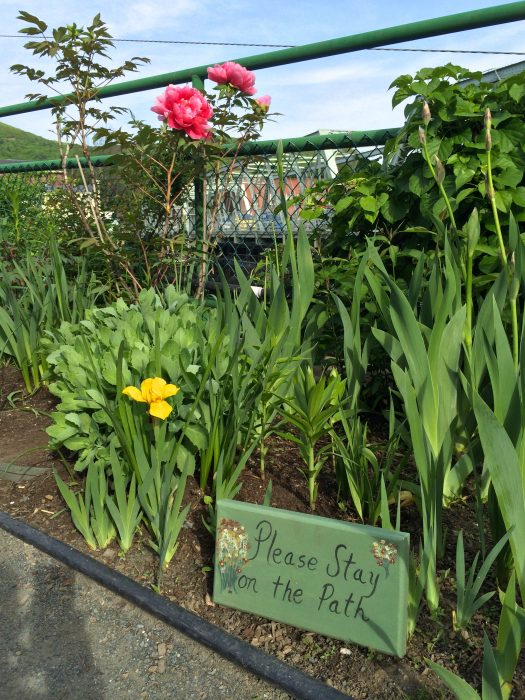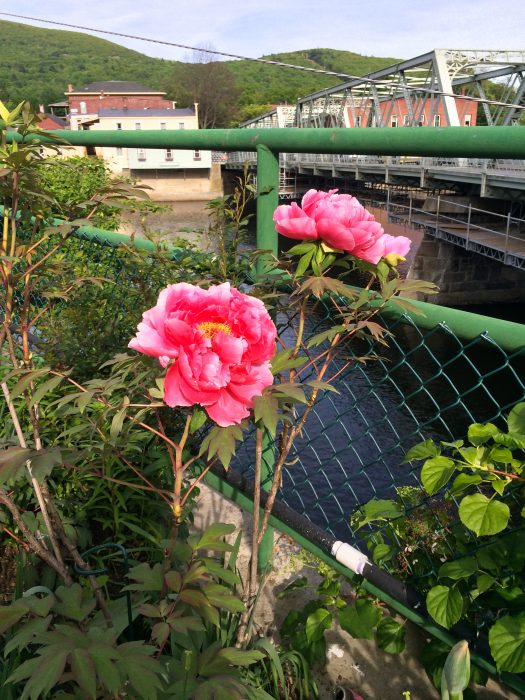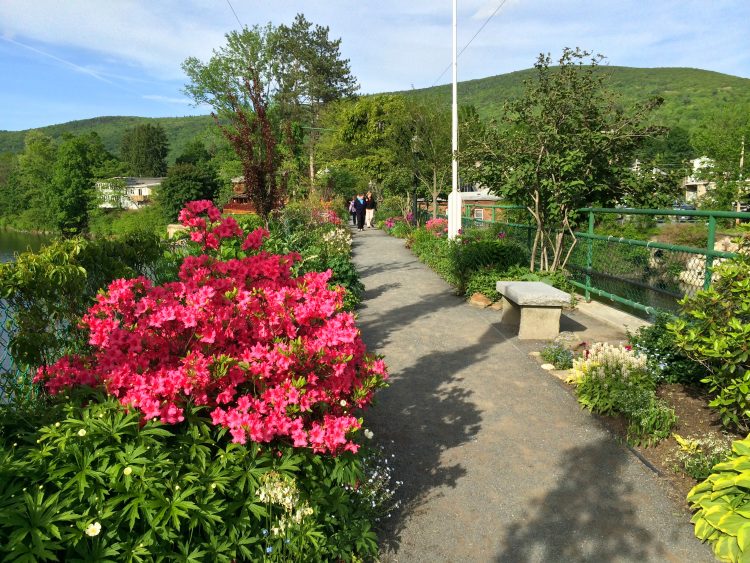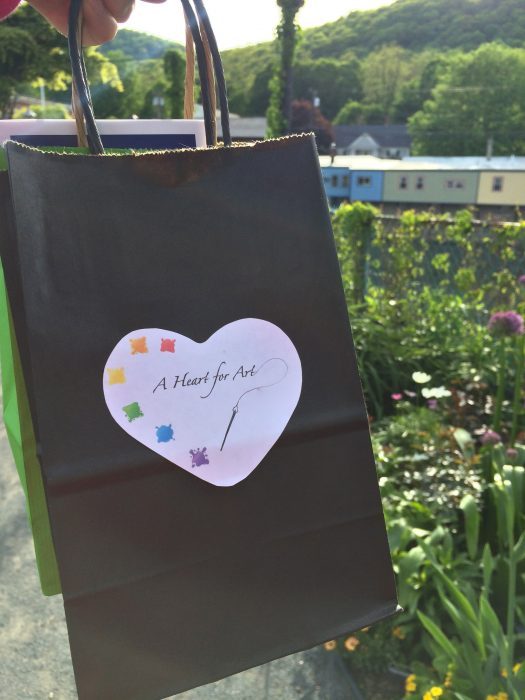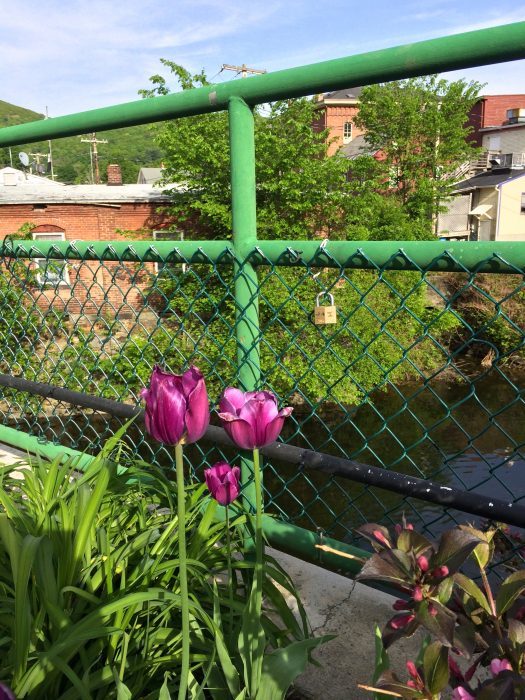 The second bridge, known as the Iron Bridge, brought me to a like-wise named street, where many town's shops, artisan studios and restaurants are located. Unfortunately, I was there early in the evening, and many shops and studios were closed for the day. The second bookstore I came across, and the first open one, happened to have a few colorful chairs and a beautiful cat named Penelope, leisurely reigning on top of the table. Can you believe that this bookstore has a tradition of a cat living there for about 30 years now? I picked up two chocolate truffles, shaped just like Penelope and made at a local Fudge Factor, as a souvenir on my way out.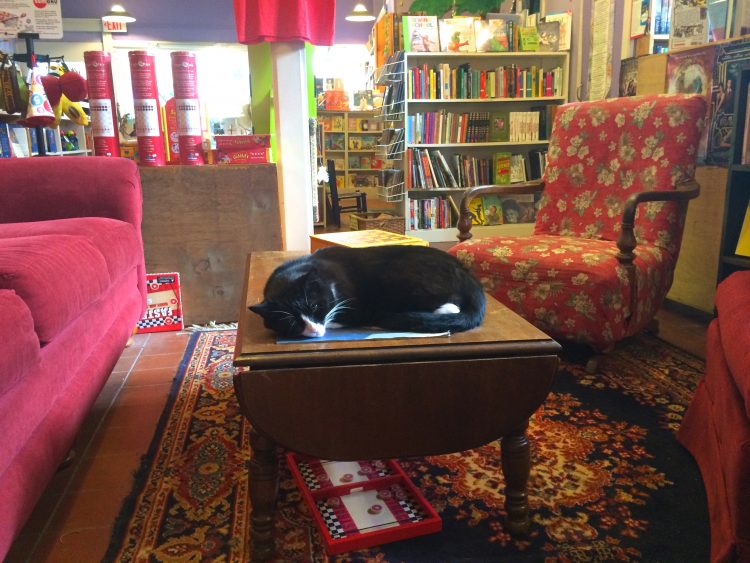 It was getting late, so I headed straight to the observation deck of the Salmon Falls. And I did get more then I hoped for! This turned out to be the site of the ancient glacial potholes. How ancient? 14,000 years to be exact! Besides world's largest potholes on record, you might find some peace here also. This happens to be the site of the Peace Treaty between Mohawks and Penobscots, Indian tribes, that allowed them to preserve perpetual peace within one days journey of this location. Where can I get in a day nowadays? Would it mean peace everywhere?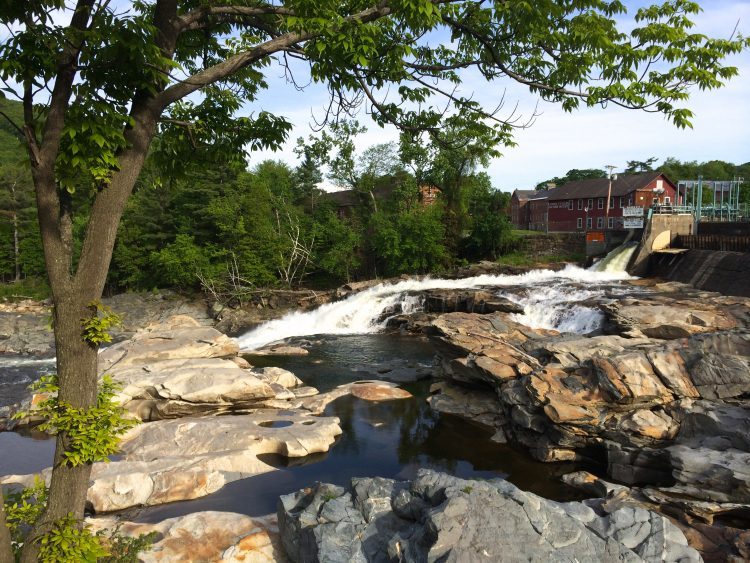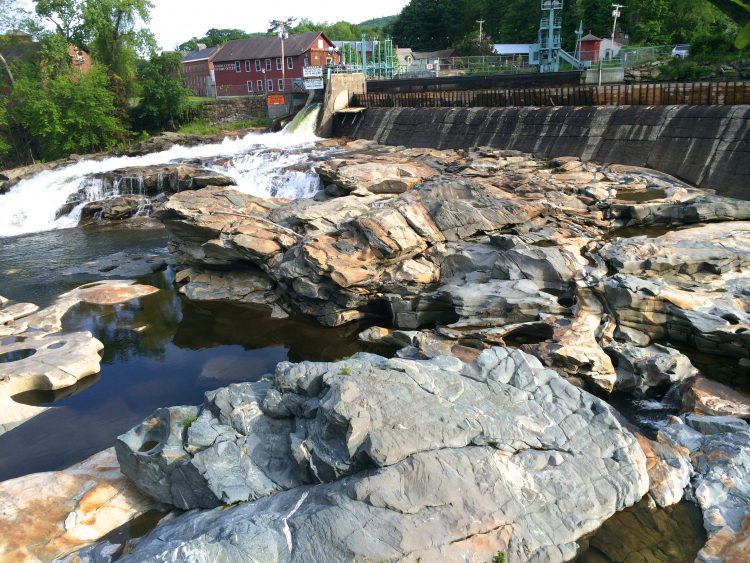 While exploring this "mystery" town, I came across a few mosaic murals highlighting its many neighboring area towns and history. The local map, that I picked up at the Bridge of Flowers, even indicated all the buildings with mosaic murals on it.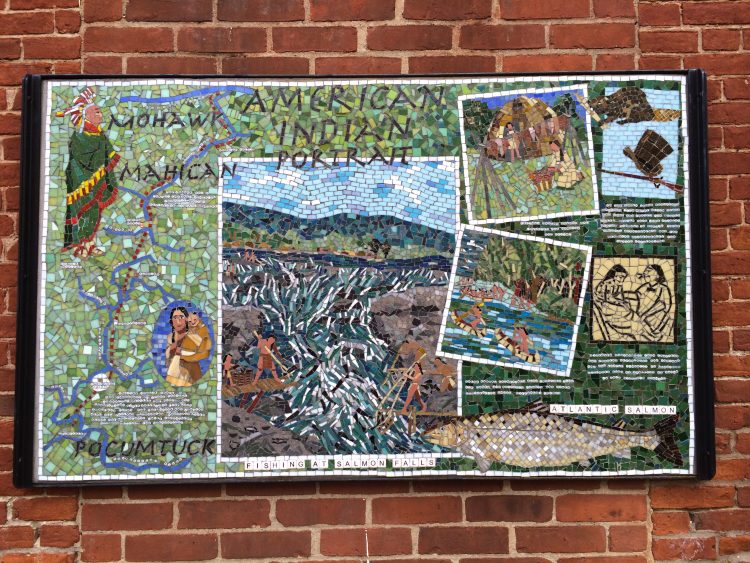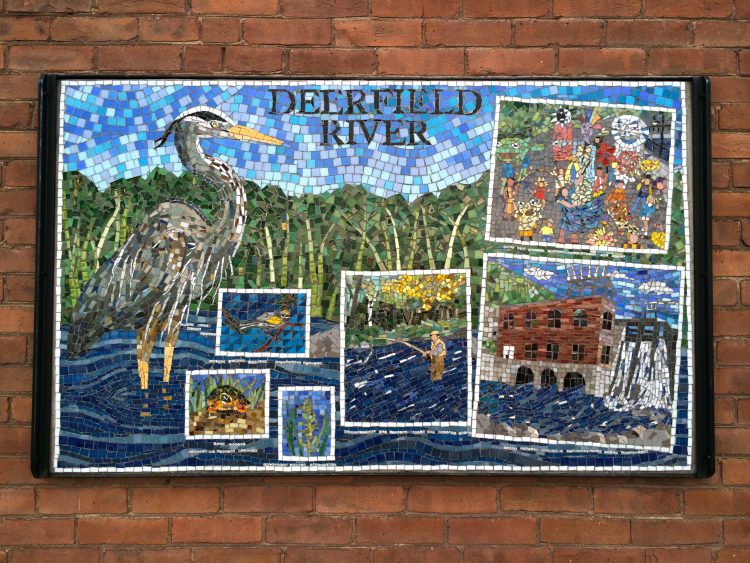 So where am I? Where did the signs bring me?
Shelburne Falls turned out to be a very unique New England village with a wide variety of artisan shops, food establishments, galleries, studios and mosaic murals. Moreover, its main points of interest, like the Bridge of Flowers, ancient Glacial potholes, and the Shelburne Falls Trolley Museum (although, I didn't get to it), made the exploration of the town so much more exciting and interesting!  Also, I came across three bookstores and one yoga studio, but I was told that there are three of them in town. So impressive! And this is for a small town of approximately 2,000 people!
I heard that the winters are pretty cold here, but is it a problem for a creative community like this?
Did I mention that the town hosts annual Art Walk at the beginning of May, July, September and November? And many other interesting events throughout the year?
This small town happened to have almost everything I keep noticing during my travels: beautiful nature, flowers, bridges, culture, art, artisans, spirituality and peace. In all my travels so far, another similar city comes to my mind. Beautiful, historic, artistic and elegant Florence!
Could it be that the signs are directing me to the place I would like to call "home" someday?! Could it be that intuition, following my bliss and travel help me shape who I am?!
What have you discovered during your travels?
All opinions and experiences are, as always, my own. 
Liberty, Peace, Love, Bliss…
Nadia
The post Following Signs to a Mystery Location appeared first on Globetrotting Girl

by