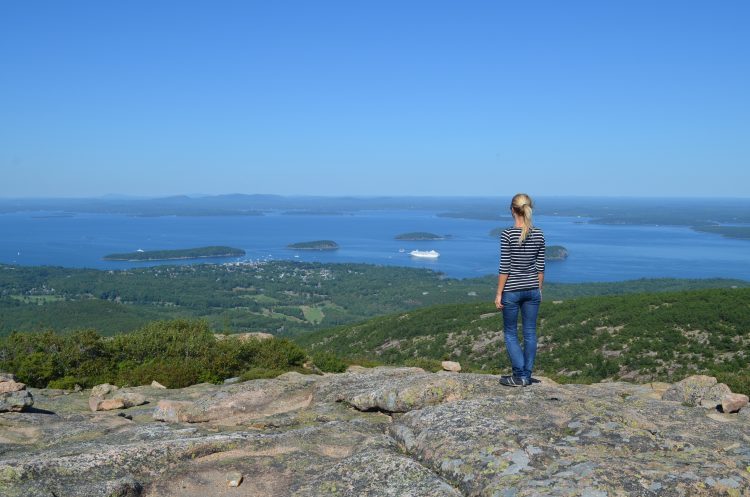 I don't become a writer because I have a talent, degree, education or connections. I become a writer because I feel the need to tell a story
In my ideal travel world, there I was nestled somewhere in a coffee shop writing about the world and my travels, and managed to get everything done: travel, experience it all and write about it. Be some kind of Super Travel Blogger and Writer. In reality, I wanted to experience places and things, and by the time I got to a coffee place or even found one, I was more than content to experience my travel destination in a different way. Experience its normality of life: people watch, chat with locals, try something new, read a magazine or an article, catch up on some news and social media or recharge and do nothing at all.
It also didn't help that I started my travels in Vancouver, Canada, in a completely new cosmopolitan city where I wanted to experience it all. Although I did manage to visit and experience many great and interesting places it has to offer, not much writing was done there. However, by the end of my travels I managed to figure out what exactly works for me in terms of travel writing.
How-tos for Keeping up with Writing during Travels
Make travel notes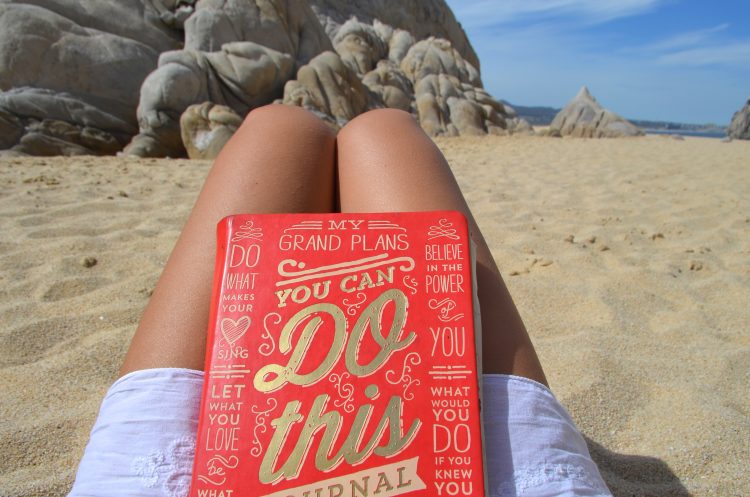 Playa del Amor, Cabo San Lucas, Mexico
I think this is the most important one for me. I carry my travel journal with me, and often end up writing ideas for future posts, names of the location I really liked, my thoughts, meaningful encounters and travel notes I made along the way. Sometimes I also use pieces of paper, travel material/brochures/magazines with quick notes or even my phone. And it is definitely easier to refresh my memory and start writing once I have an outline or an idea for a future article. And with many blissful and gorgeous places visited and experienced during my recent travels, there were many travel notes written along the way also. From important moments and experiences that turned into travel notes from Vancouver to New York to funny things I heard during my travels.
Read travel blogs/magazines/books
Travel blogs/magazines are undeniably the most important source of inspiration and information for me. Nothing sparks that wanderlust more than reading about somebody else's travels and experiencing the world with one of my favorite travel bloggers/writers. Whether it is getting ideas for my own future travel adventures, providing inspiration for article posts, learning valuable travel tips or reading just for the sake of virtual travel to those locations I am not able to travel (yet!) myself. Besides, travel bloggers and writers are some of the most travelled, educated and experienced people out there, with a multidimensional view of the world, and their perspective on life and things is definitely one of the most interesting, important and unique. At least to me. Hence, these are a few of the reasons why I read and support travel blogs.
Experience normality of everyday life
Travel is as much about famous places as it is about experiencing its normality of everyday life. Exploring prominent residential areas in a new city, walking among quintessential streets, admiring architecture of buildings, colors, noticing little details, discovering a few charming locals, immersing myself in writing and calling the whole world My Home.
There are definitely more locals in residential areas, coffee places and stores than there are locals in places of interest. So for me finding that balance and experiencing them both definitely became a priority. Sometimes getting acquainted and chatting with locals in places like these lets me experience my destination in a different way and gives me a new perspective. A few of these chats turned into ideas, travel notes or even articles and stories, or was a way to find out about interesting places to experience in the area and one time I even visited an opening of a local photography exhibit. In a way, all of these experiences become normality of life and travels.
Write about what interests you also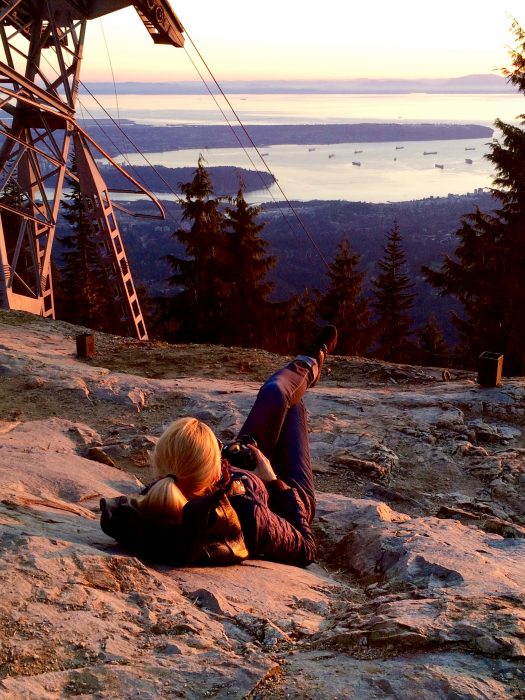 Grouse Mountain, Vancouver, BC, Canada
Everyone keeps talking and writing about the importance of niche in travel blogging, and while I was not sure about it in the beginning, eventually through my writing it kind of immersed and still does on its own. Funny enough, I started writing about top places to visit in Vancouver and a few other places, however, it ended up being a generic description of places that almost every guidebook/magazine has, and I never published it. Although there are many travel bloggers who are very successful at it and made great careers doing it, to me it did not feel right. I honored that feeling and stayed true to myself.
Personally, I was more impressed by Mary Capilano, or Princess of Peace, when I visited Capilano Bridge, and I wish I found out more about her story and how exactly she managed to be a peacekeeper/orator/advisor to her tribe, especially during those times, (probably, a modern version of a renowned female consul or a diplomat nowadays) and created everlasting Peace between nations. And definitely a great story to be told. Also, when I visited Grouse Mountain in Vancouver, it became a day trip for me, instead of a couple of hours, when after quite a hike to get there, I saw those gorgeous views of Vancouver and its bay area, had a great connection with the place, felt it certainly deserved more than that, and I knew I wanted to fully experience it.
Since I have degrees in International Studies, Modern Languages and lead by my own example, I also write about learning foreign languages, cultural connections and multicultural identity. All the topics I have always been interested in and feel strongly and passionate about. To someone it might be a niche, to me these are my interests, passion and love. Have always been, and, probably, will be in the future.
Let your writing tell a story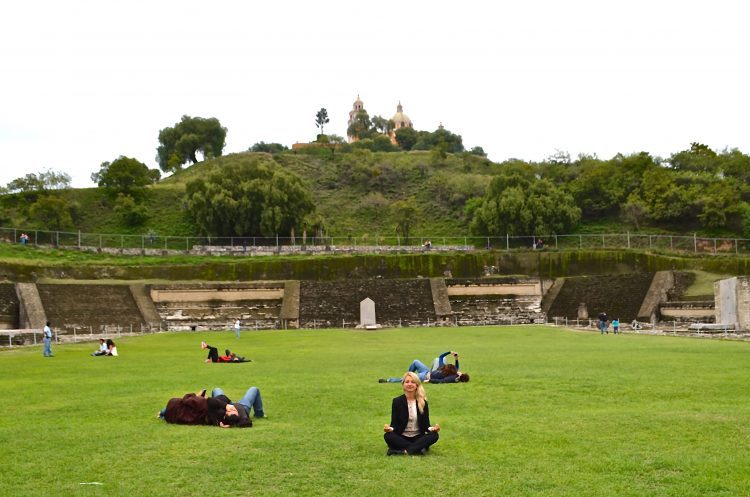 The Grand Pyramid of Cholula, Mexico
It's ok not to know what you want to write about. Not having a precise topic to write about gives much-needed Liberty to your creativity. Sometimes just choosing to be fully there gives you another perspective on your destination, connects you on a different level and you might write about something else. For example, while I was experiencing mysterious and influential Temples of the Sun and the Moon in Teotihuacan I felt so much energy and so much connection there, that I had a completely different perspective on the whole place. Later on I visited Grand Pyramid of Cholula, where layers of different centuries, civilizations and belief systems are so evident, and both of these places prompted me to think of everything and everyone who helped me in some way or another to be here. All those meaningful for me encounters that layer after layer build me up and all those altruistic, philanthropic, intelligent and talented people who inspired me along the way. And I wrote about everything and everyone who inspires me to travel the world.
The same happened when I was traveling in Acadia National Park in Maine more recently. One talk with a charming couple prompted me to write about accents, languages, multicultural identity, authenticity and honoring every part who I am. Also, it became even more meaningful to me, since it was written at the top of Cadillac Mountain, the place that has a multicultural identity of its own.
Know why you are there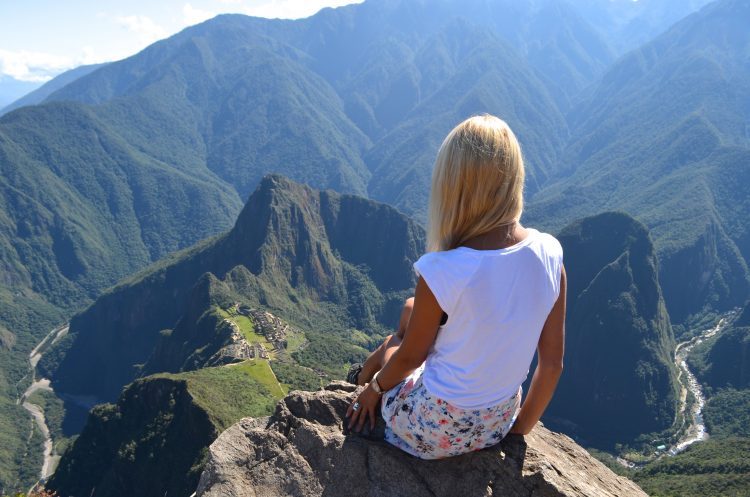 Machu Picchu Mountain, Peru
Most of the people I met were on vacation during their travels. They were there to have a great time and for me it was a little bit different. Besides having a great time, I was there to experience, to write and photo journal. Although I was very glad to get acquainted and become friends with many of them, I had to prioritize my time by choosing to do something I love (traveling, writing, photographing, editing, blogging, experiencing, getting to know new and favorite places, etc.). And sometimes it meant saying NO to socializing when this time could be used in a better way, and saying YES when it truly felt like it.
Write at your own pace
When I read about travel bloggers who manage to write about seven articles a day, I personally do not know how they do it. May be, because English is not my first language, and it does require some thinking and consideration on my part, I also use my own photography, and prefer writing articles with photo stories also. You can read a more recent one Romance in Mexico City, the city that surprised me with so much affection, romance and love. In a positive way. So I choose writing not for the sake of writing, I choose writing for the sake of telling a story. I also enjoy more this type of articles by other travel bloggers, and for me a few articles a week definitely become more important and meaningful, and hope for my readers also.
Travel write to connect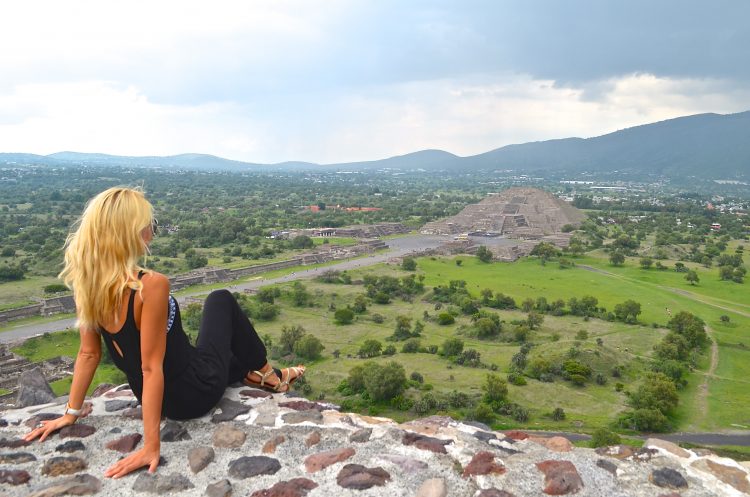 Pyramids of the Sun and the Moon, Teotihuacan, Mexico
Travel writing is also a way of connecting with the place on a deeper level. When I was at the top of the Temple of the Sun in Teotihuacan I saw many people come up only for a few minutes and honestly wondered why. After all, it is not an easy place to get to, and it is definitely worth being there and fully experiencing its beauty, magic and energy. One on One.
I was there for quite some time, making travel notes, documenting and observing. Those travelers who seemed to have just gotten acquainted and exchanged their world travel stories, jokes and experiences or that young couple in love being cuddly with each other, while the young man played a charming harmonica tune setting up a positive atmosphere for everyone or those attractive and refined Russian-speaking women who were so amazed by Teotihuacan civilization, probably, as much as I was. Travel is also about experiences like these. Some of my travel notes became stories and articles, and are even more special to me because they were written in places like these and became a part of my journey.
So these are a few of my how-tos for keeping up with writing during travels. Are you a blogger/writer or a freelancer? How do you keep up with your blog, projects and writing during travels?
All opinions and experiences are, as always, my own. 
Liberty, Peace, Love, Bliss…
Nadia
The post How-tos for Keeping up with Writing during Travels appeared first on Globetrotting Girl

by