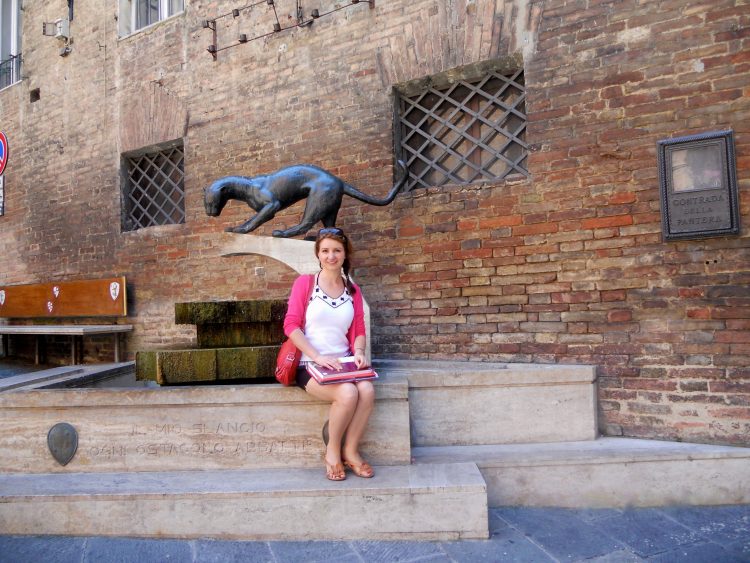 Traveling the world knowing one language, especially if this language is English, is great. However, traveling the world while knowing several languages, or at least a few colloquial words and phrases in many languages, definitely makes world travels and life a more profound and enjoyable experience.
Besides communicating for travel logistics purposes, communicating with locals and fellow travelers along the way is definitely one of the biggest advantages of knowing a foreign language. Some of my greatest travel memories are moments and experiences when I actually had an opportunity to communicate and interact with locals, expats and fellow travelers during my travels in Italy. Speaking the language provides an opportunity to find out their perspective and outlook on the city, country and life in general. Overall, encounters like these make traveling more special: communicating with locals and fellow travelers around the world and being able to speak with them in a candid manner, meaning without interpreter, is definitely one of the essential components of meaningful travel experiences.
Also, speaking several languages provided me with many great opportunities in life, helped me travel and live what I love: from studying in different countries, working as interpreter and language instructor to becoming a travel blogger and writer. And there are definitely many more advantages of knowing foreign languages.
I know Russian, Belarusian, English, Italian, a little bit of Spanish, and a few conversational words and phrases in other languages also, some more proficient than others. Here are a few language tips I learned over the years, and, hopefully, some of them will help you also. After all, language learning is a very individual process.
Tips for Learning a Foreign Language
Ask for advice
Ask for advice from people who are multilingual. What worked for them and what didn't. After all, they are more successful in this area of study, and might actually provide you with some useful information and helpful advice. And, may be, even inspire you in the process. Multilingualism is definitely possible!
Practice
Speaking a native language is always easier, however, learning a foreign language means stepping out of your comfort zone and applying knowledge in everyday situations. Italian is the language of my heart and my soul, and since I don't speak it every day, every time I meet an Italian native speaker or someone proficient enough in the language, I naturally begin speaking with them in Italian. It gives me an opportunity to meet another person, and also communicate and practice the language I love. It is a little bit more difficult with Russian, since most of the people I know speak both languages fluently. I would prefer speaking English, and sometimes it is so much easier to explain myself in another language because of some cultural references non-existent in another language and culture and a more colloquial version of it, especially with friends. However, I do realize and understand the importance of practicing the languages I know in order for me to be truly proficient in all of them.
Think in the language
When I used to teach a conversational Italian, I noticed a habit of translating words in order to be able to speak. Sometimes finding a synonym or explaining what you are trying to say in a different manner, helps the communication process and makes it easier. Overall, being able to think in the language you are trying to learn is beneficial and also necessary in order to become bilingual or speak several languages fluently.
Read books in the original language
Besides speaking and communicating, reading books in the original language is definitely something that helps to become more fluent and takes language skills to a more proficient level: vocabulary and knowledge-wise. Also, it gives an in-depth perception of the language, literature, culture and the country in general. Traveling in Italy after reading great literary masterpieces of Dante Alighieri, Giovanni Bocaccio, Ludovico Ariosto, Alessandro Manzoni, Grazia Deledda, Dacia Maraini and many others, have definitely not been the same. It helped me experience the country through their stories, truth, realities, perceptions, way of thinking and understand better an important and multidimensional aspect of traveling.
Love your accent
I wasn't sure at first if I wanted to write about this particular topic, but I do think that it is worth mentioning, since it becomes evident at some point or another. I used to be very sensitive about my accent, especially, if someone else pointed out. However, over time I learned to accept and embrace it: speaking my third or even fourth language is something I should be proud of. From my studies and travels I realized that all people have regional accents even if they speak the same language. Plus, accent is only a sign that you speak more than one or even several languages, and it is definitely something worth celebrating and be proud of. From my personal experiences, most of the people who speak several languages hardly notice your accent, especially if you speak clearly and in understandable manner, and some of them will actually encourage and compliment you.
Kudos for learning a foreign language and becoming a truly global citizen: studies, languages, travels and all!
Are you learning a foreign language at the moment? And what are your tips for learning a foreign language?
All opinions and experiences are, as always, my own.
Liberty, Peace, Love, Bliss…
Nadia
The post Tips for Learning a Foreign Language appeared first on Globetrotting Girl

by