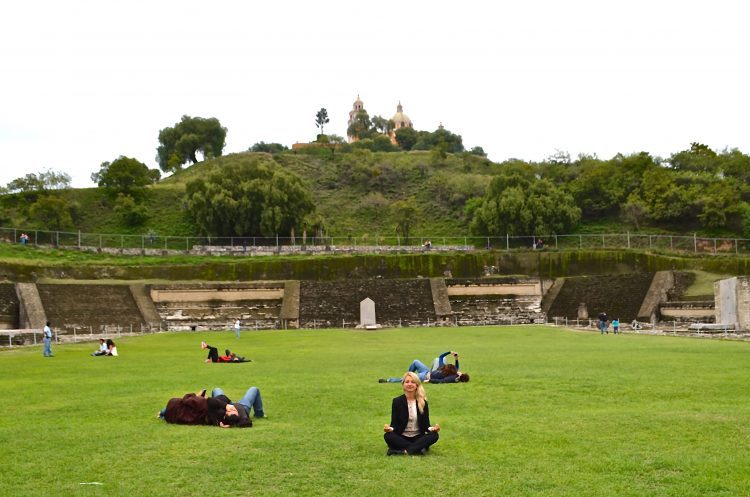 The Great Pyramid of Cholula, Mexico
With all my travels around the world it was clear that travel was a more spiritual experience for me. So this is what I was into lately: exploring the connection between how-tos and whys of traveling. What exactly makes us travel and discover the world? And yearn for deeper connection and spiritual experiences of understanding places and people, immersing in other countries, cultures and languages? Become global citizens and feel at Home in the world?
And what is the best place to think of it? Of course, it is here, in places of Great Pyramids: the Great Pyramid of Cholula, the largest pyramid of the world, and Grand Pyramids of the Sun and the Moon in Teotihuacan by one of the most ancient, mysterious and influential civilizations of all times. Both, Teotihuacan and Cholula, are one of those places that completely surprise and overwhelm at the same time for many reasons: for grandness of their structures, mystery of their legendary civilizations and most importantly, being so much advanced in many disciplines and ahead of their time.
Teotihuacan, known as the City of Gods ("the place where men became Gods"), is one of the most important sites in the world. Besides the belief that this was the place where the Sun, the Moon and the Universe were created, it was one of the most important and remarkable cities in the world at the peak of its existence. It is considered the first Mesoamerican city as the result of urban layout and planning usually associated with a city (order, architectonic style, streets, courtyards, complex underground systems, harmony, etc.), which greatly distinguishes it from the settlements of its time. Being one of the most ancient, mysterious and influential civilizations, which predated the Maya and the Aztec by centuries and highly respected by them, it is not a surprise that the grand buildings of Teotihuacán are in accordance with celestial movements and significance. Pyramid of the Sun is one of the largest ancient structures built in Americas and the world. Although not much is known about the primary purpose of the pyramid (and the temple once there), it is a remarkable structure of a great importance.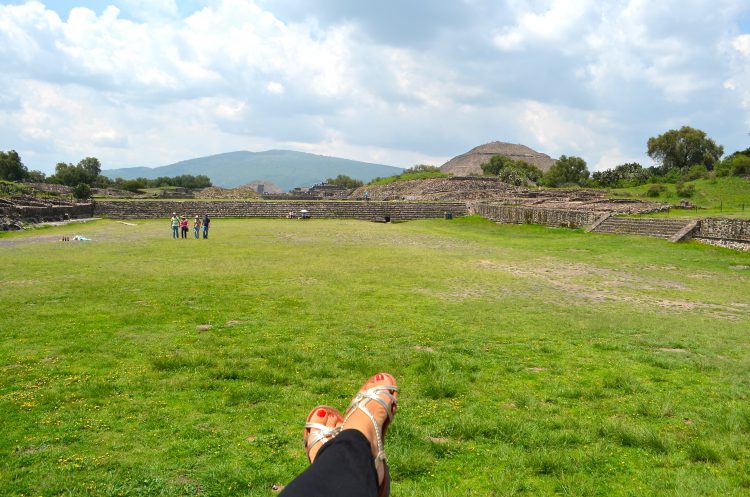 Temples of the Sun and the Moon, Teotihuacan, Mexico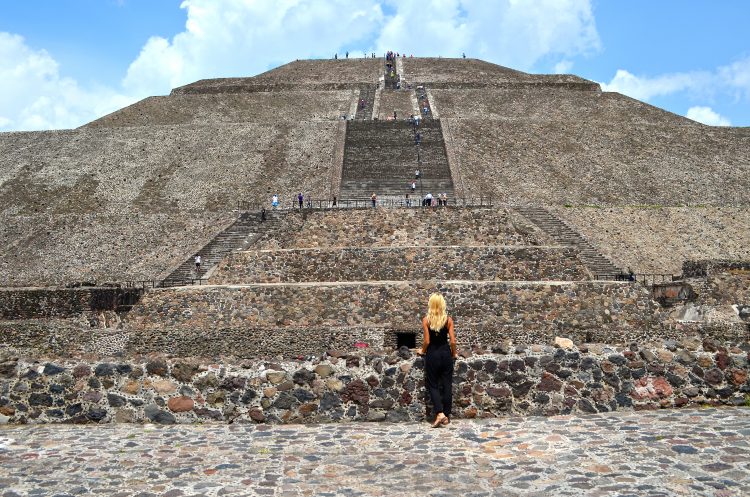 Temple of the Sun, Teotihuacan
The Great Pyramid of Cholula is the largest pyramid in the world, although it doesn't appear to be, at least not at the first glance. So much different from a typical pyramid site, this is the place where the world seems so grand and small at the same time. Where civilizations are structured and evident in multiple layers. Where everything is so diverse, similar and interconnected. Where union between civilizations, cultures, belief systems and symbols complements one another. Where depth is more important than appearances. Where Love is so obvious.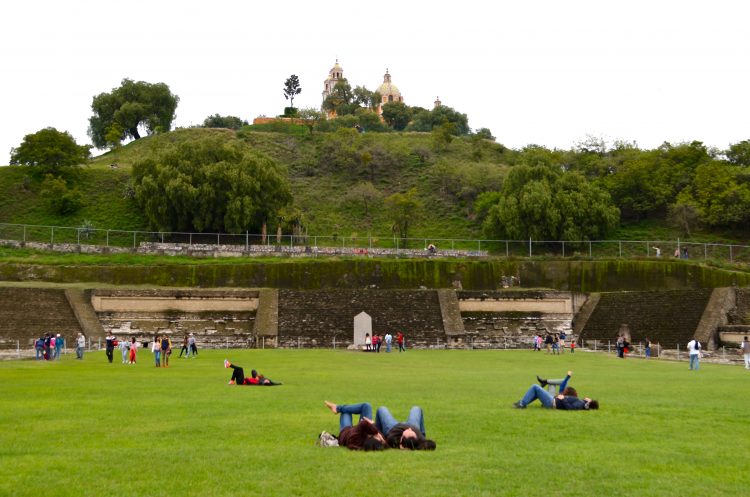 The Great Pyramid of Cholula
While I was in both of these great and remarkable places, right at the highest point of the Pyramid of the Sun overlooking the Pyramid of the Moon and the whole ancient city with a little glimpse of this mysterious civilization, and at the base of the Great Pyramid of Cholula where layers of different centuries, civilizations and belief systems are so evident, I couldn't help but think of everything and everyone who helped me in some way or another to be here. All those meaningful for me encounters that layer after layer build me up and all those altruistic, philanthropic, intelligent and talented people who inspired me along the way. I could't help but think of everything and everyone who inspires me to travel the world, understand the importance of Balance and Love as the most essential components of being, breathing and living and follow my own path. Everything and everyone who inspires me to be AUTHENTIC ME.
What inspires me to travel the world:
Trave

l

blogs
Frankly speaking, travel blogging is a relatively new concept for me, although it has been here for a while now. However, from the very first moment I started reading travel blogs, I was drawn to undeniably unique personal side of it and the Art of storytelling. Reading travel blogs gives me a glimpse into diverse world of ours, introduces me to places I have never been before and sometimes lets me experience my favorite and familiar places from a different perspective.
There are many great travel blogs with visual stories from gorgeous and interesting places around the world. One of my favorite travel bloggers is Liz from Young Adventuress. An American currently living in New Zealand, she is an amazing full-time travel blogger, photojournalist and story-teller, and definitely an inspiration to many females out there, especially with her articles How to Be an Adventuress and The Solo Female Traveler's Manifesto. In the world where females are still (?!) being questioned about their solo travels (and I wonder how many males are?!), this is what is truly needed in order to advance to another level of authentic being, equality and respect. I really enjoy reading her world adventures blog, admire her courageous nature and "keeping it real" language. With many awards, features and partnerships to prove (not that she needs to!), she is one of the best in travel blogging field. Keep it up and continue being YOU!
Travel photography
Travel photography is one of the ways to be introduced to gorgeous places around the world. While there are many great and established travel magazines, what I like even more is a new trend of social media travel photography accounts.
With quite a few popular talents, project #Followmeto on Instagram by Murad Osmann and Natalia Zakharova is by far my favorite one created by a couple in love traveling the world. After all their travels around the world, the content couple got married a few weeks ago and is a true example when Love, beauty, dreams, travels and world form a blissful and creatively talented union. Congratulations from all my heart!
World Literature
I used to read about many places I am very fortunate to be traveling in now and experiencing them personally. Besides speaking and communicating, reading books in original language is definitely something that helps me become more fluent and gives an in-depth perception of the language, literature and the country in general. Traveling in Italy after reading great literary masterpieces of Dante Alighieri, Giovanni Bocaccio, Ludovico Ariosto, Alessandro Manzoni, Grazia Deledda, Dacia Maraini and many others in their original language, has definitely not been the same. It helped me experience the country through stories, truth, realities, perceptions, way of thinking of these great people and understand important and multidimensional aspect of traveling. Grazie Mille!
Foreign languages
Speaking several languages provides me with many great opportunities in life, helpes me travel and live what I love: from studying in different countries, working as interpreter and language instructor to becoming a travel blogger and writer. And while there are many advantages of knowing foreign languages and helpful tips on learning them, more than anything, speaking another language inspires me to look forward to more traveling, feeling a global citizen and looking forward to the day when it is actually possible and becomes a reality for all of us who consider the whole world HOME.
There are not that many travel bloggers and writers who are multilingual and multicultural (at least not that I know of, so, please, let me know of any in the comments below), so it is always extra special to come across these talented people, read about their travels and experience the world through their stories and experiences.
One of these talented travel bloggers I was introduced to by means of Instagram is Yulia from Miss Tourist; she is a full-time travel blogger originally from Russia currently living in Paris, proficient in a few European languages with many noteworthy international experiences, such as studying in Sapienza, Rome, (one of the biggest and oldest Universities in Europe). Brava!
World Music
Music is an important part of any culture, just as its language and literature. Some of my fondest travel experiences have something to do with music: whether it is caroling in Rockefeller Center in NYC, singing along at Boyzone concert in Dublin, Antonello Venditti in Rome or Andrea Bocelli and Staind in the USA. So listening to my favorite Italian songs or sounds of Spanish guitar definitely brightens my days and makes me look forward to my next trips to these colorfully and culturally rich countries.
Travel Shows
From the days when the only programs I watched were "Passport to Europe with Samantha Brown" and "Anthony Bourdain: no reservations" remarkable for their witty and entertaining commentary and quite unique style of traveling to the day when a single travel video by Rick Mereki on Vimeo made me question my life, dreams and travel. It is no doubt that travel shows provide one of the most important sources of inspiration for any aspiring and current world traveler. Thanks for being amazingly talented, inspiring and undeniably unique YOU!
People and meaningful encounters
Besides communicating for travel logistics purposes, communicating with locals and fellow travelers is definitely one of the biggest advantages and rewarding experiences of knowing a foreign language and experiencing the world. Some of my greatest travel memories are when I communicate with locals, expats and fellow travelers. It gives me an opportunity to find out their perspective and outlook on the city, country and life in general, communicate and exchange ideas.
One of the fondest experiences during my travels in Italy was the opportunity to talk with many people about their immigrant experience and life in Italy for my graduate project. And I definitely had an incredible opportunity to experience Italy (Rome, Milan and mostly Siena) a little bit differently: through their stories and realities. From the whole experience, talking with children and young adults who grew up in Italy and consider themselves Italians, or new Italians how they are often called, was the most interesting for me. Living between different worlds of their parents and their Italian or international friends and education, they had to balance different cultures, traditions, languages and sometimes even different names/identities. Not only they were natural interpreters of the languages, they were also becoming cultural interpreters and promoting understanding between different cultures. During this experience I realized even more that topic of multicultural identity is not just an abstract concept, it is actually about you: how to embrace it, love it, be proud of it and stand up for yourself.
To this day, one of the most inspiring chance encounters for me was meeting an American girl traveling solo in Europe as part of the Leadership program at her University and I was completely amazed by her courage, personal strengths and abilities, and I think this is what a true leader is: someone who inspires and leads by his/her own personal authentic example.
Overall, meaningful encounters like these make travel even more special: meeting locals and fellow travelers around the world and being able to speak with them in a candid manner, or without interpreter, is definitely one of the most essential and inspiring components of meaningful travel experiences.
I would like to use this opportunity to mention and thank all of you who helped me along the way in some way or another: upgraded my hotel room, gave me a ride, paid for my taxi, helped me carry my suitcases, etc. or ensured that I will get to my destination on time and made me smile (!) in all the countries I have traveled so far, especially in the most recent ones (Canada, USA and Mexico). Your generosity and kindness are very appreciated and respected.
Thanks to every single one of you who build me up!
And most importantly I travel!
I think the most inspiring moment of it all is actually taking action.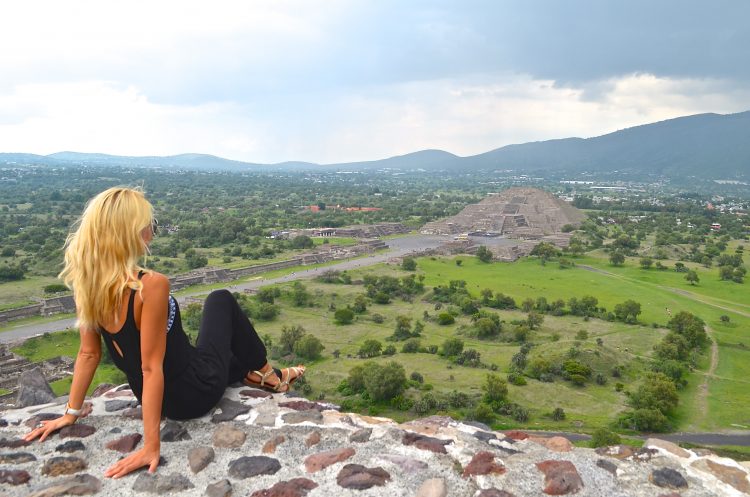 Temples of the Sun and the Moon, Teotihuacan, Mexico
Do you have a favorite travel blog, book, magazine, song, project or a video? What motivates and inspires you to travel the world?
To all females and Individuals for whom Balance, Spirituality and Love are essential components of being, breathing and living! To all who helped and inspired along the way, dedicated.
All opinions and experiences are, as always, my own.
Liberty, Peace, Love, Bliss…
Nadia
The post What Inspires Me to Travel the World appeared first on Globetrotting Girl

by